Kidscreen » Archive » Sky Kids is counting on the new series from Omens Studios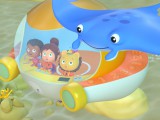 UK broadcaster Sky Kids has pre-purchased two seasons of 123 Squad Number! Singapore's Omens Studios for its linear channel and streaming service NOW.
The 52 x 11 minute CG toon targets preschoolers, with a first season in production now and slated to launch in February 2023. It features three number-loving kids who become a rescue team whenever the citizens of Numberville need help. The concept is a derivative of the series on teaching calculus Counting with Paula (300 x 11 minutes), which was renewed for a fifth season in May 2021 by Mediacorp.
The Singaporean broadcaster has also ordered the first season of 123 Squad Number!, and Sky is involved in the development of season two. MBC in the Middle East also pre-purchased the series last year to launch on its SVOD (Shahid VIP) and AVOD (Shahid) platforms.
Last year, Omens Studios tapped veteran TV screenwriter Adam Redfern (Nickelodeon's Paddington) to consult on the development of the show. Sally Marchant (Kiva can do) is on board as executive producer, along with Sacha Goedegebure (Count with Paula) showrunning and Debbie Macdonald (Peppa Pig) serving as editor.
This pre-purchase of Sky Kids is a big step forward in Omens' UK expansion plan, which it kicked off two years ago with the launch of a London-based studio. 123 Squad Number! will be the first preschool series to come out of the company's new site.