New store visited by Fairfield Chamber surprise patrol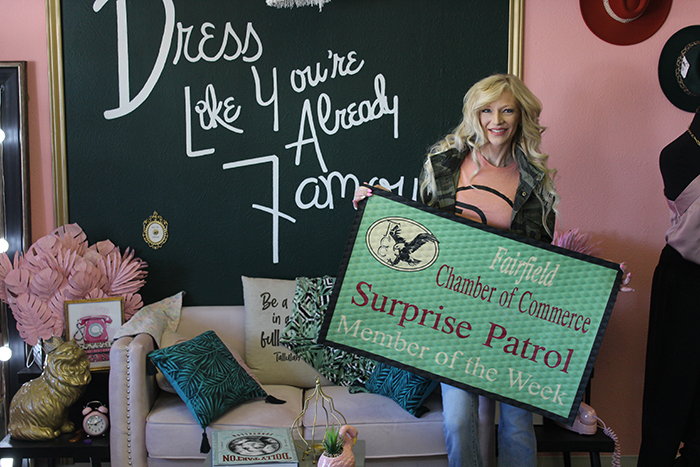 The surprise patrol from the Fairfield Chamber of Commerce visited Tallulah Rey at the new location at 407 E. Commerce Street (Highway 84) in Fairfield, Texas.
Mark your calendars for the grand opening and new ribbon cutting at 1:00 p.m. on Saturday, April 16. Champagne service, birthday cookies and sales.
This popular retailer offers fashionable women's clothing.
Get to know owner Emily Plemons in her own words:
Well hello gorgeous!
Let me introduce myself, face behind Tallulah Rey
I am Emily!
I'm a mom and bride-to-be (if we can ever slow down long enough to plan a wedding) and a real spitfire. No, just ask my mom.
If it's pink or glittery, either I own it or I've probably done it twice. I am adventurous and extremely goal-oriented.
This shop is my baby. Most ask where the name comes from and well I wanted to name my next baby Tallulah and call her Tillie but my other half and I already have our hands full so I named my store instead!
I'm determined to make sure every girl/woman truly anyone gets their glow back. We are our own worst critic, trust me I'm more insecure than most BUT! If I can make every person who walks into my shop or orders from me online look beautiful, I have succeeded.
I do everything with every ounce of passion and my shop is absolutely no different!
So if you ever need to be dressed up for an occasion or if you need a hip girl, I'm here. And you can ask anyone if it's not my favorite, I'll be honest and tell you to try that instead! But be prepared for me to push you out of your comfort zone.
I'm talkative too. Like for real, it gets on my family's nerves. If you ever just need a getaway and need someone to listen to, my door is always open.
I promise to make you feel beautiful!
Thank you so much to everyone who has believed in me so far!
May your day be shrouded in glitter and your hair be teased even more
Xo-'Em